Tumbled Stone
Regular price
Sale price
$4.00
Unit price
per
Sale
Sold out
Color and Size may Vary. You will receive 1-2 pieces depending on size . Send us a message if you would like to select your piece . 
Citrine: 
PLEASURE • PLENTY • TRUTH • ABUNDANCE • WEALTH
Citrine is the perfect abundance crystal for those wishing to manifest wealth, prosperity and success. This pyramid has been carved from natural citrine. Citrine facilitates mental focus, confidence and will power, making it a must have for entrepreneurs and hustlers alike. It magnifies its own energy as well as that of other crystals. Citrine is an excellent stone for meditation. It's light/warm energy activates our imagination and aids in visualisation.
Clear Quartz:
POWER • MOVEMENT • TRANSCENDENCE • POSITIVE ENERGY • MANIFEST 
Bring the power of quartz into your life. The ultimate amplifier, clear quartz will enhance all of your chakras. Radiates positive frequencies in all directions, this unique crystal from Brazil is a truly unique addition to any collection.
Rose Quartz:

 
ADORATION • VULNERABILITY • NURTURING • LOVE  • EMOTIONAL BALANCE
Associated with the heart chakra, this crystal is known for its capacity to warm the heart and encourage feelings of love. Perfect for balancing feminine energies, this gemstone attunes to positive romantic vibrations to generate harmony in relationships or spark new ones. When you wear rose quartz, it encourages physical comfort and self-love by soothing wounds or anxieties that prevent loving behavior.
Smokey Quartz:
DETOXIFY • LOVE • CONCENTRATE • PROTECTION • GROUNDING 
The grounding properties of smoky quartz make it one of the best protection stones. This stone is often referred to as the "stone of total consciousness". Good for: Overall protection, Creativity, Stimulate intuition and enhance psychic abilities.
Share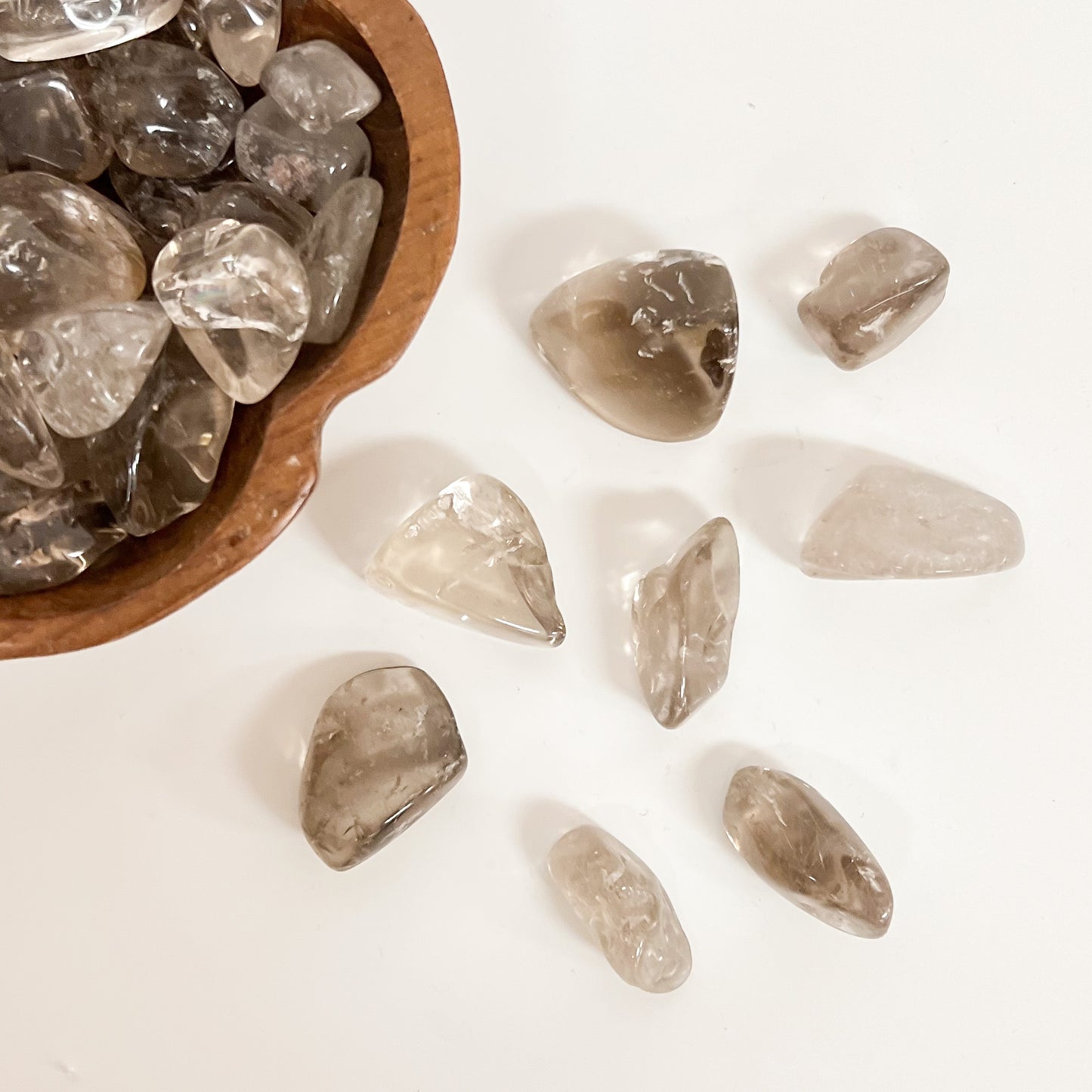 PRODUCT QUESTIONS
What size should I get?
Please refer to our size chart.
SHIPPING QUESTIONS
How long does shipping take?
Please allow 7-10 business days.
Where is this shipping from?