Crystal Chips
Regular price
Sale price
$4.00
Unit price
per
Sale
Sold out
Amethyst:
KNOWLEDGE • AWARENESS • BALANCE • CALM
This amethyst geode from Brazil is an excellent stone for protection, clarity, and intuition. It opens the flow of your crown chakra, helping you connect to your higher self. Prop this geode up on a shelf in your room to harness its full spiritual powers.
Citrine:

PLEASURE • PLENTY • TRUTH • ABUNDANCE • WEALTH
Citrine is the perfect abundance crystal for those wishing to manifest wealth, prosperity and success. This pyramid has been carved from natural citrine. Citrine facilitates mental focus, confidence and will power, making it a must have for entrepreneurs and hustlers alike. It magnifies its own energy as well as that of other crystals. Citrine is an excellent stone for meditation. It's light/warm energy activates our imagination and aids in visualisation.
Clear Quartz:
POWER • MOVEMENT • TRANSCENDENCE • POSITIVE ENERGY • MANIFEST 
Bring the power of quartz into your life. The ultimate amplifier, clear quartz will enhance all of your chakras. Radiates positive frequencies in all directions, this unique crystal from Brazil is a truly unique addition to any collection.
Flower Agate:
STRENGTH • SOLIDITY • SUPPORTIVE • BALANCE 
Flower Agate is the stone of personal growth. Known to activate, open, and heal the Heart and Root Chakras, Flower Agate opens us to inspiration, establishes inner peace, and fosters empathy.
Agates are a type of chalcedony that comes in various colors and patterns. Agate is a grounding stone. Use this stone to balance your aura and help you achieve a state of mental clarity. It can assist you in exploring your spirituality.
Howlite:
ATTUNEMENT • AWARENESS • COMPLETION • CALM
White Howlite is an exceptionally calming and soothing stone that promotes peaceful sleep. It's also known for promoting calm and easing stress. Howlite holds natural energy that carries a sense of nurturing, support, protection, purity and clarity. When you hold or wear this crystal, it may help you concentrate on your goals while releasing fear, worry or self-doubt.
Red Jasper: 
PASSION • LIFE FORCE • BRAVERY • ENERGY • STAMINA
Jasper Crystal is an excellent stone for grounding. It is also known as the "supreme nurturer" and will provide emotional, physical, and financial stability to those who keep one near. Jasper helps one accept oneself as well as the situations they find themselves. The jasper crystal is a stone of grounding energy, helping to connect to the root chakra and bring connection and stability. The stone works with the base and sacral chakras and helps to stimulate and balance the kundalini fire within. Jasper helps overcome exhaustion from overwork.
Rose Quartz: 
ADORATION • VULNERABILITY • NURTURING • LOVE  • EMOTIONAL BALANCE
Associated with the heart chakra, this crystal is known for its capacity to warm the heart and encourage feelings of love. Perfect for balancing feminine energies, this gemstone attunes to positive romantic vibrations to generate harmony in relationships or spark new ones. When you wear rose quartz, it encourages physical comfort and self-love by soothing wounds or anxieties that prevent loving behavior.
Smoky Quartz:
DETOXIFY • LOVE • CONCENTRATE • PROTECTION • GROUNDING 
The grounding properties of smoky quartz make it one of the best protection stones. This stone is often referred to as the "stone of total consciousness". Good for: Overall protection, Creativity, Stimulate intuition and enhance psychic abilities.
Obsidian:
RESONANCE • VISION • GUARDING • PROTECT 
Black obsidian is a dark black crystal known for its protective energy. in ancient times it was often used in talismans and amulets to banish evil and bring protection. today it is still used to protect against negativity both on the home front, or when traveling. this smooth stone is held for releasing fear, anger and anxiety as well as for controlling anger and passion, allowing quietude and tranquility to emerge in your life.
Share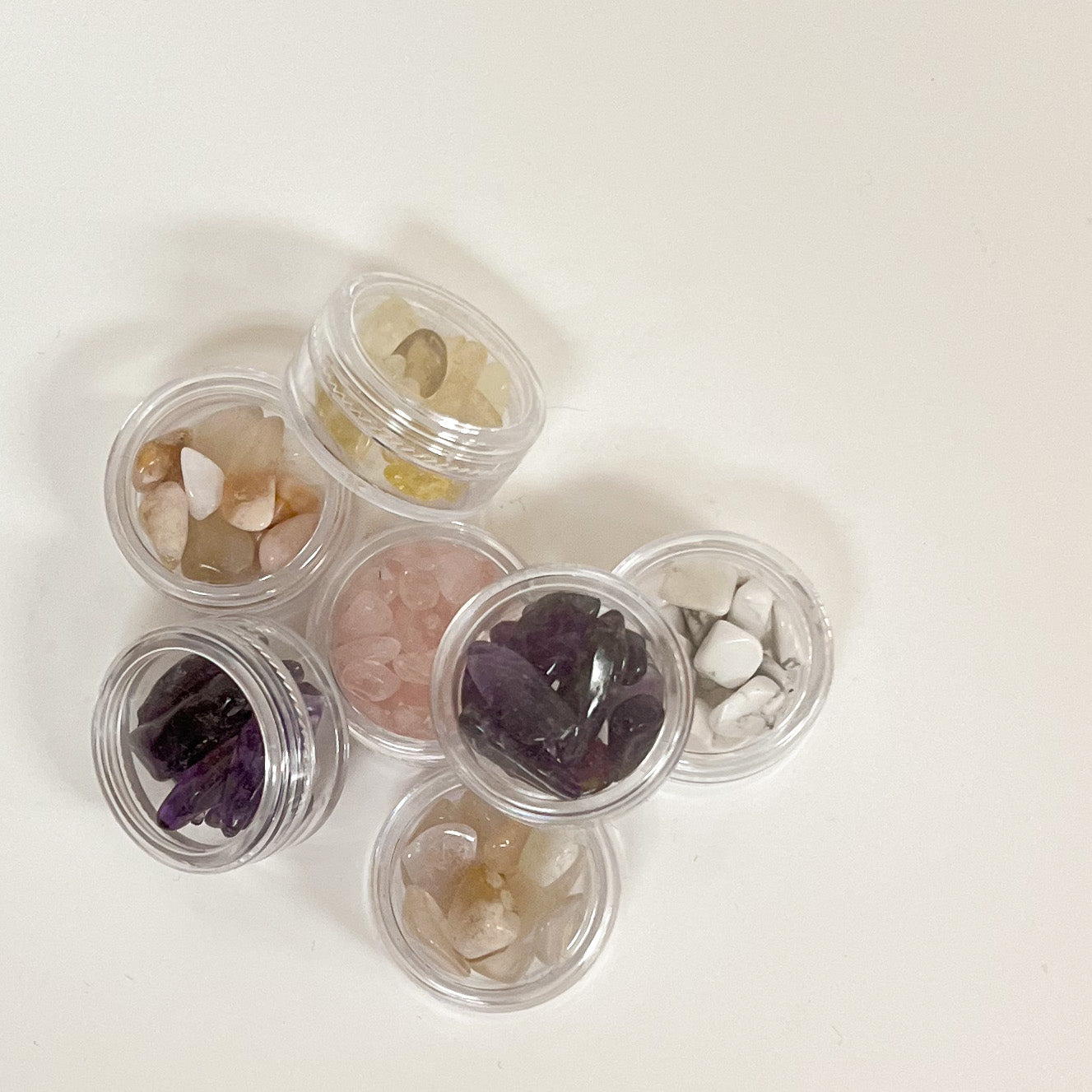 PRODUCT QUESTIONS
What size should I get?
Please refer to our size chart.
SHIPPING QUESTIONS
How long does shipping take?
Please allow 7-10 business days.
Where is this shipping from?